History Buff Louise Bours chosen as Community Homes February Resident of the Month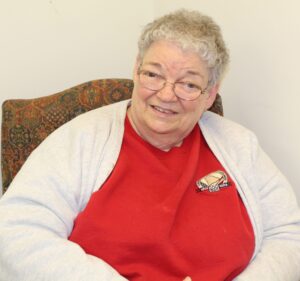 Do you have a question about the history of Lebanon County? Just ask Louise Bours, Hill Terrace resident, a Community Homes owned and managed property in Lebanon County. She has the honor of being chosen as the Community Homes Resident of the Month for February 2022.
Louise loved her eight years working at the Lebanon County Historical Society, where she served from 1998 to 2009 as a secretary and tour guide. "Even people who have lived here all their lives discover something new when they take the tour. It was a fun job."  The position at the Lebanon County Historical Society gave her many opportunities to interact with people who shared her passion for the history of our community. "One of my friends was the late Mayor of Lebanon, Jack Worrilow. He was a humble and gentle man. His knowledge of Lebanon County history was amazing."
Her family tree is populated with police officers, dating back to her great-grandfather, Henry Bours, who had a successful career as a motorcycle cop.
Louise is a life-long native of Lebanon. She was educated in Lebanon schools and graduated in 1968. A twenty-year career in the manufacturing of stockings and hosiery started soon after high school graduation.
She met her husband to be, Albert, at that time. "I found Albert working in the basement of the stocking factory," she said with a smile, "God is everywhere." They married in 1969, and had four children – Michele, who works at the VA, Jennifer, and Deborah, both teachers, and Jeremy, a mail carrier. Albert passed away in 2009 at age 62.
Louise lived on her own in Lebanon after that, but her children were concerned about her situation, in n particular her safety. Michele was persistent, and on her own, contacted Community Homes, and applied for an apartment for her mother.
After resisting for a while, Louise finally agreed to make the move.
Now retired, she has settled into her apartment at Hill Terrace, her home for the past three years. "I was used to living in a larger place, so moving to a smaller apartment took some adjusting, but Michele was right. I am glad the I made the decision. I gave up some living space but gained new friends, in particular Dottie Meyer, a genuinely nice lady. Louise also appreciates the Community Homes staff. My life here is relaxed and easier, thanks to their support."
We concluded the conversation with Louise by asking her the question, "What makes you proud?" She quickly answered, "Living in the United States and Lebanon County. And of course, my kids."
Her answer reflects both the love of history and the family.