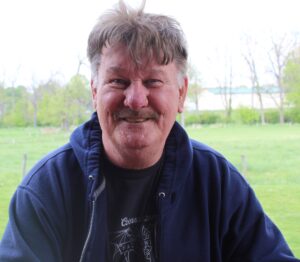 Community Homes selects Walt Kondroski of Tulpehocken Terrace as the May 2023 Resident of the Month.
It does not take long to identify the real Walt Kondroski. Talk to him for just a few minutes, and you have a sense that this is a nice man who spends a lot of his personal time doing things that help others.
He spent a brief time as a Resident Helper at Tulpehocken Terrace, where he lives, but it is no longer "official" because he did not find the time to attend some required classes. That does not stop him from taking the time to help a neighbor who needs a ride to the grocery store, or he might help with trash removal, or other household chores when asked. That's just the way he is.
Now that the weather is getting nicer, Walt organizes neighborly get togethers with hot dogs around the grill at the picnic table outside the back of the building. Neighbors and staff just like having Walt around.
"I love living here," Walt says, "the neighbors are nice, and we have great staff at Community Homes who always seem to have our back. It is an ideal living situation. Charlotte McNamara, Bonnie Heist, and Sue Evans have been particularly helpful to me".
He has been a Tulpehocken Terrace resident for about two years, he explains, "I had an unfavorable living situation that I had to stop. I heard about Community Homes, put my name on the waiting list, and hoped for the best. I moved into my daughter Jenelle's place during the wait period. It took about a year before an apartment became available at Tulpehocken Terrace. Getting the call from Sue Evans was a happy day for me".
Walt is a Reading native. He was born and raised there. He attended Reading High School and was able to earn a diploma by taking the GED route. Life in Reading was tough. His Dad was a mugging victim several times, and it cost him his life the final time.
His work history includes time with several employers in Reading and places like Womelsdorf, Newmanstown and Strausstown the longer of which was ten years with Fred's Auction House, Strausstown. Other employers included General Battery Corporation, Sunoco, and AT&T. He also worked for a time as a bartender.
Walt takes pride in having his 4-year-old grandson Noah visit him and spend time with him as his "fishing buddy". "The residents love it when Noah is around," Walt happily shares.