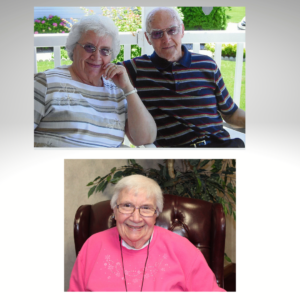 Church connection leads to mighty good Oak Terrace decision.
There is an old expression "Mighty Oaks from little acorns grow."
For our March Resident of the Month, Janice Peiffer, the little acorn of a home for Jan and husband Fritz was a small trailer in a 55 plus trailer park in Myerstown. Persistent urging by their children combined with a connection from a friend at church motivated the Peiffers to put their names in for an apartment at Oak Terrace.
Nine months later, they got the call that there was an apartment available at Oak Terrace, one of the Community Homes Lebanon County buildings, and Jan and Fritz made the quick decision to move. In 2012, they traded space from a small trailer to a safe, secure, apartment in a community atmosphere of their peers.
Fritz passed in 2018, but Jan still calls Oak Terrace home, "I still miss Fritz (Earl Frederick Peiffer) terribly," Jan says, "but I am thankful for the continuing support and friendship of my Oak Terrace neighbors and the Community Homes staff. This is my home."
Fritz and Jan were married for 61 years before his passing. Fritz's sister Marilyn and Jan were friends, and Marilyn felt that the two of them belonged together. She persisted until she made the permanent relationship happen in 1951. Jan and Fritz married in 1957. Jan remembers a New Year's Eve date with Fritz. "We shared a midnight kiss, and that was it!" she said with a smile.
Along the way they had 4 children – one daughter and three sons.
James Frederick Peiffer is now 64 and works in insurance for Penn Medicine in Philadelphia; Beth Moore, 62, is a banking professional, newly retired, Douglas Earl Peiffer is 57 and works for the VA; and William John Peiffer is 53 and is a business consultant.
Both Jan and Fritz worked in separate jobs during their family years. One common trait they shared professionally was a love of interacting with other people.
Fritz worked as a food distributor for a Pepperidge Farm franchise. In his spare time (pun intended) he was an avid bowler with the Palmyra Seniors League.  Both he and Jan enjoyed games like pinochle and Yahtzee.
Jan's long-time career was as a telephone operator, ever since she graduated from Annville High School in 1951. She was the youngest student in her class.
We concluded out conversation by asking Jan "what makes you proud? Her answer came quickly. "I am proud that Fritz was my husband. We had a wonderful loving marriage," she added," I am also proud of my children and our eight grandchildren. More than anything, I wanted to be a mother. And that came true!"