Canal House Affordable Housing Project
Construction in Progress Update: September 2, 2023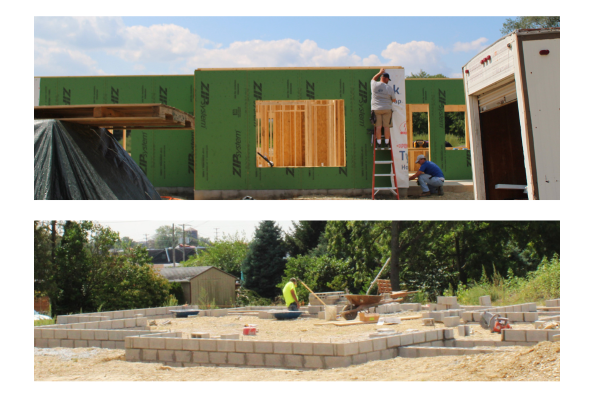 In response to strong interest to be kept up to date on construction progress for the affordable housing units at Canal Street and 7th Avenue in North Lebanon Township, Community Homes of Lebanon County reports that Phase One of the project – 8 of the 23 handicap-accessible units – are making progress on schedule.
The 8 units are being constructed within three separate buildings. The dwellings are a mixture of one-bedroom and two-bedroom apartments. The buildings are configured with either two dwellings or three dwellings in each building.
"It's interesting to see how the units are coming together," says Community Homes CEO Charlie Rush, "The first building has reached the room construction stage, the second building is at the exterior wall construction stage, and the foundation is being laid for the third building. We are on schedule".
The project construction plan will be spread out over the next several years, Fundraising will be in three phases – Phase one is taking care of the 8-unit buildings that are under construction. Construction timing of phases 2 and 3 is reliant on the fundraising support of the Lebanon County Community.
"We live in a very "giving" community here in Lebanon County", says Community Homes Board Chair Glenn Wenger, "We are optimistic we will reach our goal in the end, and continue to ask for support. Individual and local business support is essential to success. Our people in need depend on us. The need for affordable housing is not going away".
For information about this project, visit www. Communityhomespa.org or call 717-273-1711 x 100.
Construction in Progress Event: August 4, 2023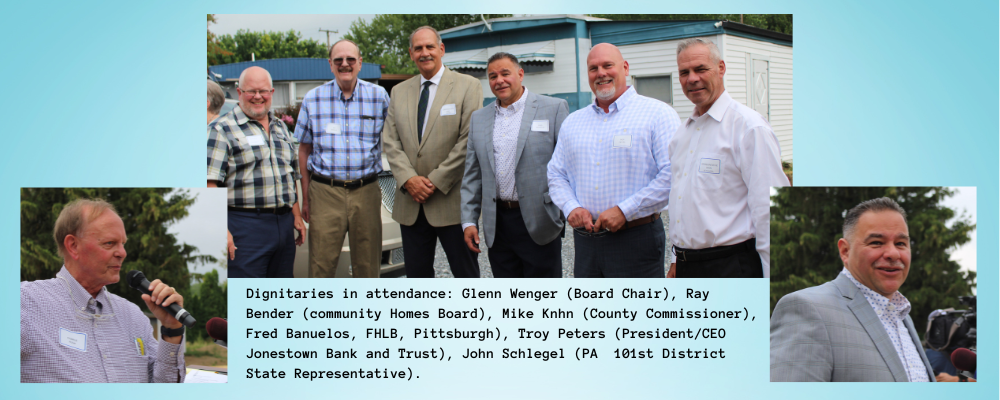 Responding to increasing public interest in the Canal Street Affordable Housing project, which broke ground on January 25, 2023, Community Homes of Lebanon County held a "construction in progress" event recently for numerous interested parties, including Shareholders, Board of Directors, the Project Development Team, donors, and community leaders. Phase One of the 23 unit handicap-accessible "pocket-neighborhood style" development
"We are pleased that these important people are showing continuing interest in this important undertaking for our Lebanon County citizens who look to us for help", says Board Chair Glenn Wenger.
Community Homes CEO Charlie Rush led the tour. "It is our hope that this project can inspire more building of affordable housing so the market can help people in need find affordable and comfortable housing many fold".
Also making remarks was Fred Banuelos, Investment Development Manager, from the Pittsburgh office of Federal Home Loan Bank. "The reason FHLB exists is to lend support for Community-focused projects like the Affordable Housing Project in Lebanon. We congratulate Community Homes of Lebanon County for doing this".
Great News! Community Homes Groundbreaking January 2023
January 15, 2023 – A significant day in the history of Community Homes of Lebanon County.  Please watch our video to learn more about this momentous day!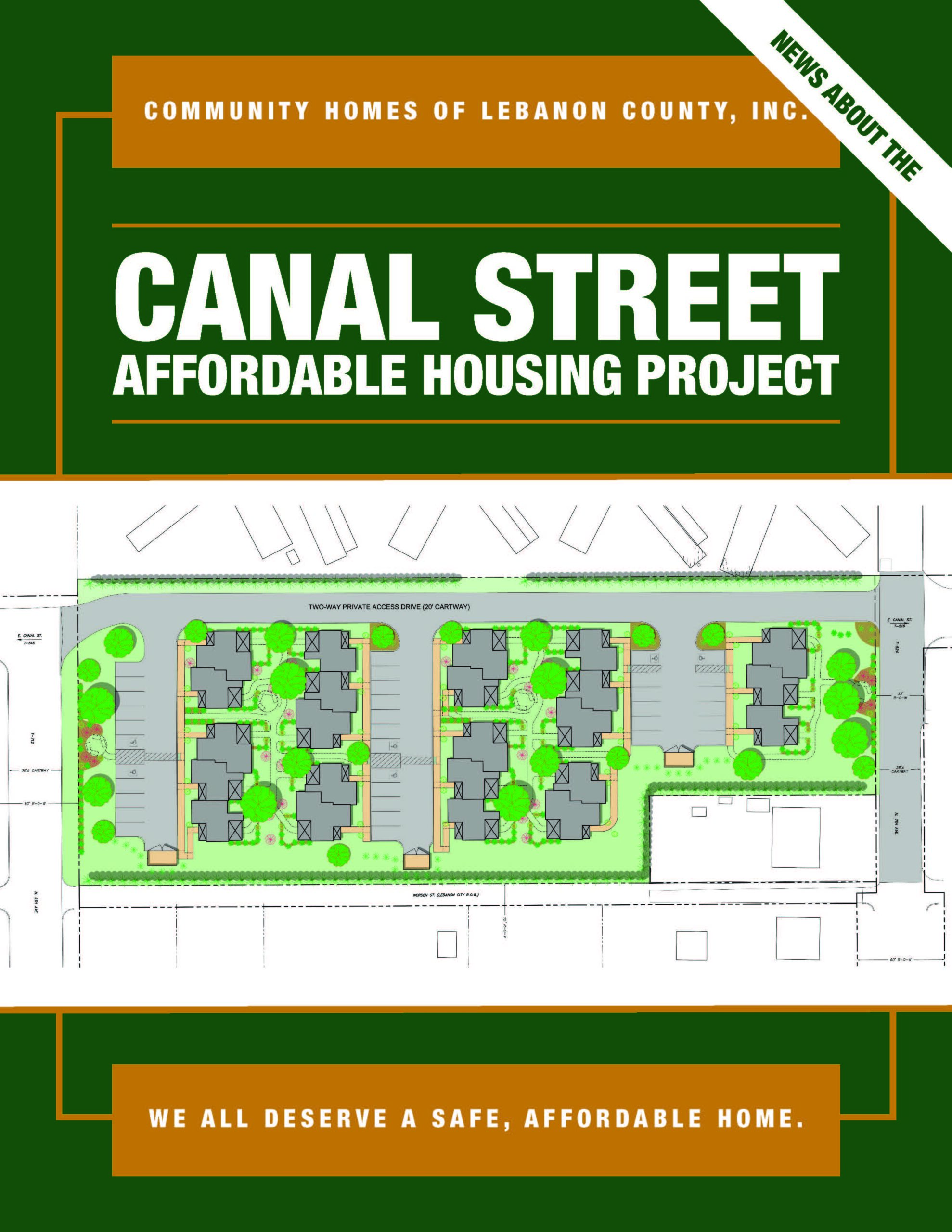 We are in the first of a three-year capital campaign to raise funds for the Canal Street Affordable Housing Project. It is an important step toward providing safe, affordable housing for a growing market of people who need their housing expense, including utilities, to not exceed 30% of their monthly income. It is consistent with our mission ("in participation with others, to provide housing, related facilities, and support services, so that each person whose life we touch may realize fully his or her potential for physical, social, and spiritual wellbeing."). I am pleased at the level of support we are getting from a generous and compassionate group of businesses and individuals in the Lebanon Valley.
When completed the project will yield 23 one and two-bedroom units on a designated plot of land on Canal Street in Lebanon. All units will be handicapped accessible, which gives us maximum flexibility in reviewing prospective residents. When we meet or communicate with potential supporters, and cover the project cost with them, the most common question we get is one related to the cost of construction of the units.
We then explain that we are guided by, according to Investopedia.com, "Value Engineering, a systematic, organized approach to providing necessary functions in a project at the lowest cost. Value Engineering promotes the substitution of materials and methods with less expensive alternatives, without sacrificing functionality. It is focused solely on the functions of various components and materials, rather than their physical attributes. Value Engineering is also called value analysis,"
By following these guidelines, we are keeping our promise to investors in this project. We are committed to build this needed housing in as cost-efficient way that we can. It is not only a way we conduct business, but a reason our supporters, in addition to believing in the cause, appreciate the strategy we use to make it happen.
One example – The plot of land at Canal Street is uneven for building, particularly in relation to storm water management, which can be costly. We challenged Steckbeck Engineering to design a plan which accomplished the goal in a cost-efficient manner. I guess we can call Value Engineering "foundational". This approach to construction enhances the way we look at this entire project.
That said, we are committed to provide cost-efficient, compassionate housing solutions to the people we serve. And we thank our supporters for their participation.
Peoples Security Bank supports Canal Street Affordable Housing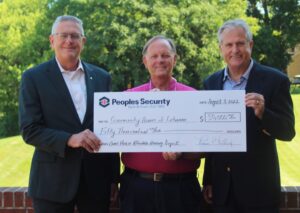 Check Presentation – Neal Koplin, Charlie Rush, Ed Naab
As it enters phase two of three, local business support for Community Homes campaign to build critically needed housing for Lebanon County seniors, disadvantaged, and others saddled with a housing cost burden continues to gather support from the local business community as well as individuals.
The latest example – a $50,000 commitment from Peoples Security Bank & Trust, located at 830 Norman Drive, Lebanon, Pa 17042. This was confirmed in a recent check presentation from Peoples Security executives Neal Koplin, Senior Executive Vice President, Chief Banking Officer, and Edward Naab, Senior Vice President, Central PA Division Manager, to Charlie Rush, CEO, Community Homes of Lebanon County. "People's Security Bank & Trust is honored to play a role in the Canal Street Affordable Housing Community" said Mr. Koplin, "The development is a testament to the commitment and tenacity of Community Homes in supporting Lebanon and its' citizens for over 50 years."
"We are incredibly grateful for this contribution from Peoples Security Bank. Support like this from the private sector is critical to this campaign. It also helps us secure the necessary financing from a combination of resources thru the Federal Home Loan Bank, the County of Lebanon, and generous contributors from the local community to meet our goals", says Community Homes Board Chair Glenn Wenger, "We met our phase one goal, and are on schedule to turn the dream into reality. It is premature to share details at this point but stay tuned for more news soon, other than say that momentum is building for the campaign."
Charlie Rush adds, "Community Homes started with a vision in 1968. We recognized the need to help this exclusive group of people then and continue the quest today. Today, in total, we serve residents who occupy 289 units in eight different housing environments. It is not enough to meet demand, and we must keep growing for their sake. And with the community support we are experiencing; we are optimistic for the future. But we must continue to meet our goals>,
According to their website (www.psbt,com), Peoples Security Bank & Trust Company is a locally managed community, providing Wealth Management Services for over 75 years, They are staffed with highly qualified professionals who have developed a reputation for timely decision making and excellent service to the growing list of institutional and individual clients.