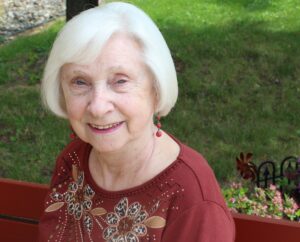 Helga Noll selected as the Community Homes June Resident of the Month.
There is a bit of a fairy tale quality about the life of Helga Noll, our June 2023 Community Homes Resident of the Month.
Helga was born and raised in a large happy family in a picturesque area in Germany called Kronenberg, which is nestled in the Taunus Mountains region. Kronenberg is not far from Frankfort. It is known for its movie-set-like beauty as well as its reputation for security. "American Presidents Eisenhower and Kennedy stayed in Kronenberg during official visits to Germany. They enjoyed the quiet and the security of being there," Helga said, "I always loved living there. I still keep in touch with my family. They are still there."
Love is the keyword that took her away. At age 17, Helga met an American GI named Arthur Noll. He was looking for directions to get somewhere, and by chance Helga was the person with the directions. It was love at first sight. And just like that, in 1958 she became a young, married lady and was living in the Susquehanna Valley, Arthur's home. Helga kept a dictionary handy, so she and Arthur could communicate as their married couple's relationship grew.
Arthur served in the Signal Corps in the US Army. He developed skills as a reporter and photographer. Upon return to his home area in civilian life, Arthur reverted to his carpentry talent and followed a career in cabinetmaking/carpentry for Reppert's Custom Kitchens in Myerstown.
Helga worked as well. She worked in a photo lab, developing photos, before taking a job at the Publix Shirt Factory in Myerstown utilizing sewing skills, from 1968-1978, when the factory closed.
She had her longest-term employment at the Albright Nursing Home in Myerstown as a CNA (Certified Nursing Assistant) from 1978-2003.
Afterwards she continued working part time, serving breakfast guests at the Holiday Inn, Lebanon, until she was 79 years of age. "I loved being around people," Helga noted, "It never felt like work."
Arthur and Helga had their home for many years on Park Avenue in Myerstown. They had two sons, who begat two grandchildren and one great grandchild.
Arthur passed away in 2009. Helga remained at their home for many years, but finally she decided she had to find a smaller, more manageable place to live. Climbing the stairs in the house was becoming a problem for her.
After about two years on the waiting list. Helga was offered an apartment at Tulpehocken Terrace where she happily resides today. She moved in on November 14, 2022. She calls it "one of the happiest days of her life."
Helga refers to her apartment at Tulpehocken Terrace as "her little paradise." She enjoys the privacy as well as the camaraderie of her neighbors and the Community Homes staff. "I enjoy planting flowers outside, socializing, the freedom of still driving, and keeping organized each day."
She continues, "I am proud of my American citizenship, my two glorious sons and family, and the ability to make plans."
Helga has a cousin in Kansas and hopes in the not-too-distant future to return to Kronenberg to visit with family and continue her fairy tale life where it all began.