Local First Responders introduced to Life Emergency Access File for senior residents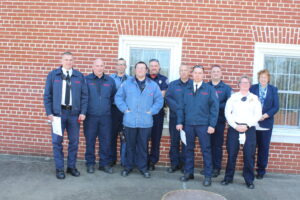 Community Homes of Lebanon County, a local leader in providing safe, affordable housing for senior citizens. The Resident Services staff assist elderly and disabled residents living in their affordable housing communities to identify, locate, and acquire the services necessary to remain self-sufficient. The LEAF program enhances the resident's quality of life and helps them safely remain in their apartments as long as possible.
There are some instances when an emergency first responder is needed to transport a resident to a hospital. Lebanon County's Emergency Medical Technicians (EMT's), paramedics, police officers, and firefighters have all responded to emergencies at Community Homes locations.
In those situations, the immediate availability of vital information such as current medications, medical conditions, recent surgeries, allergies, etc. can make a difference when seconds count between life and death.
To make this information available, Community Homes has taken the initiative to make this medical information available at the discretion of the resident. Seventy percent of residents are participating in this program, named Life Emergency Access File (LEAF). When a fist responder enters one of the communities "Terrace" buildings, and proceeds to a specific resident apartment, there is a LEAF magnet on the apartment door indicating that the resident is a participant in the program. The two-sided (LEAF) form is magnetized to the refrigerator. It also includes a portable copy for the first responder.
To build awareness of the LEAF program, Jane Keller, the Community Homes Director of Resident Services held a briefing at the Administrative Office at Oak Terrace, Lebanon for key First Responders to explain the program and review a sample form for information. The session was well attended and included a q & a segment. Attendees included Lebanon Fire Commissioner Duane Trautman, Assistant Chief Aaron Sweitzer, Fire Captain Burt Wissner, and Firefighters Dave Smiley, Tom Scholl, Jan Harnish and Aaron Robinson. Karen Summers, Chief of Operations of First Aid and Safety Patrol (FASP) also attended. Lebanon Police Chief Todd Breiner was also briefed on the program.
The First Responders complimented Community Homes for making this vital information available. Lebanon Police Chief Breiner was particularly impressed. "It is a great idea. And I wonder why we have not done this sooner. Everyone should have a form like this in their homes."
The Fire Commissioner and the Chief of Police both said they will distribute the Life Emergency Access File (LEAF) to their designated teams, so they are aware of this vital program when they must respond to a call at a Community Hones property.
Community Homes, founded in 1968, has 287 apartments in six Lebanon County "Terrace" buildings, plus a Maple Street Duplex built for the ambulatory disabled. All 287 units are occupied, with a waiting list that exceeds 5 years. Plans are in process to add a 23-unit Canal Street affordable housing complex, with the first phase ready in 2022.