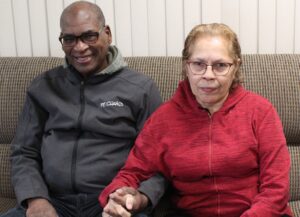 International travelers Bernardo and Rosamilia Carmona selected as the Community Homes Residents of the Month!
It has been quite a journey for this married couple, with the possible last stop in Lebanon, Pennsylvania, more specifically Poplar Terrace, where they have been happily settled since March 2022.
Married couples as residents are not common in the Community Homes general population, but it is possible to live there as a married couple. At present there are seven couples who call a Community Homes apartment home.
The Carmonas had been living in a less desirable apartment in the Lebanon area, until a Social Worker at his medical provider's office, who knew the reputation of Community Homes, suggested they apply. They did, and the connection was made.
"We are very happy here, and have no desire to move again", Bernardo says, "We like the apartment, and the people and the Community Homes staff have been very welcoming and friendly."
Bernardo was born and raised in the Dominican Republic. His formal education ended in the 7th grade. Eventually, he served in the Dominican Republic Air Force. He was a talented trumpet player, which paid dividends. His military career was highlighted by an assignment as a trumpeter in a military band. He served eight years in the military.
With military service behind him, he determined that employment opportunities were greater elsewhere, so he pulled up stakes and moved to Puerto Rico, where he found work as a steel bender, a talent that served him well for a number of years.
It was in Puerto Rico that he met Rosamilia. She was a widow, having lost her husband six months prior. A mutual friend introduced them in a local night club and the courtship began. They were married in 2005.
Employment opportunities took them to the United States, where they settled in Lake Charles, Louisiana, and more work as a steel bender. Bernardo played trumpet in a band to supplement his income.
Two devastating hurricanes. Laura and Delta forced Bernardo and Rosamilia to flee Lake Charles in late 2020.
Their travels included the Seattle/Tacoma area in the State of Washington, but a preference for the eastern part of the United States landed them in Lebanon in 2021, and Poplar Terrace in 2022.
They enjoy a quiet and comfortable life now. Bernardo is semi-retired. He is active in his local church, Iglesia Cristiana in Lebanon. He plays the trumpet at church services several times a week. They live healthy, smoke and drink-free lifestyles. They are grateful to God, for the path that led them to where they are today.