Compassion at the heart of all we do.
We take a close look at another of our Core Values this time – Compassion.
The Miriam Webster dictionary gives us a nice concise definition – "Compassion is the sympathetic consciousness of other's distress together with a desire to alleviate it."
At Community Homes we are focused on compassion when interacting with our residents. Being sensitive to the problems they face with daily living as they get older led us to establish a Resident Services Department several years ago. Our professional team communicates directly with residents and helps them with simple tasks like balancing a checkbook, to finding resources for medical related issues. This is a much-appreciated service, and the residents tell us so.
We now have 287 individual apartments in six Terrace Building and a duplex on Maple Street built for ambulatory disabled residents. While this may seem like "a lot", the truth it is not nearly enough to satisfy the need we have identified. There is a waiting list for Community Homes residency that is approaching six years.
Our "desire to alleviate" this problem has led our Board and supporters in the community to act. Following up on the recent completion of the Maple Street duplex, we are underway with a plan to build the 23-unit Canal Street Affordable Housing Project. Our three-word mission – Compassionate Housing Solutions – drives us to help not only our aging population, but the ambulatory disabled and family units who are looking to us for help. There is still much to be done to complete our fundraising campaign for this project, but early results are very encouraging.
I consider it fortunate that we are in Lebanon County, Time, and time again, people in this community can be counted upon to come through with compassion. They are special.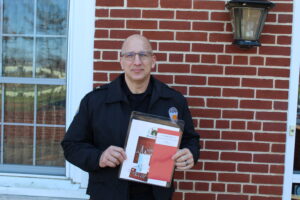 CORE VALUE IN ACTION
Compassion for the health and well-being of the residents has led to a service called Life Emergency Access File (LEAF). Here is how it works:
Each resident completes a form with all pertinent medical information (sometimes with help from our Resident Services professionals). The file is affixed to a visible spot in the apartment, such as the refrigerator, in case of an emergency. The First Responder who makes the emergency call has immediate access to a copy of the file, which can be taken with the resident to the hospital. The original LEAF file remains in the apartment permanently. No other copies are made, which maintains security of the information.
We have had very positive feedback from First Aid and Safety Patrol, as well as from the Lebanon City Police and Fire Departments for this pro-active show of compassion for our resident community.
Police Chief Todd Breiner was particularly impressed. "I wish I had thought of this. I will definitely share the materials with my team." he said.