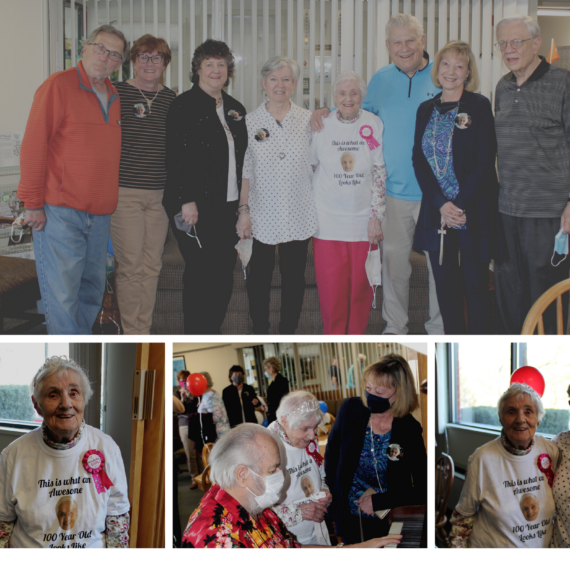 One Hundredth Birthday brings feelings of hope and joy.
It was one of those "you had to be there" moments….a special  gathering in  the Community Room of Poplar Terrace, one of the six senior apartment buildings owned and operated by Community Homes of Lebanon County
The occasion – One hundred-year-old Irene Wike, surrounded by friends and family, celebrated her special birthday by dancing around as honkytonk piano player Karl Hausman tickled the ivories.
Karl is no stranger to the keyboards. His long career has included performances for 19 years at Hershey Park, playing in the Kit Kats Band, and for BCTV in Reading. He has shared the stage with the likes of Neil Diamond, Conway Twitty, Johnny Cash, Marvin Gaye, and countless others. Karl is also a composer, arranger, and writer. He played for Irene's 90th birthday and was pleased to be part of her 100th birthday celebration. His music lit up the room!
Irene was decked out in a custom sweatshirt that read  "This is what an awesome 100 year old looks like. " Coupled with her joyous demeanor, it gave everyone in the room the feeling that there are better days ahead. We have all made "social distancing" pert of our lives over the past year. Irene, Karl, and the people at Irene's party  give us a glimpse of some better days ahead. It was an uplifting experience.
Community Homes staff coordinated arrangements with Irene's family and the resident community to organize the once-in-a lifetime event to honor Irene Wike.
Family members were there from the Syracuse, NY area, and Illinois, as well as from our local area.