Australia Sanchez selected as Community Homes of Lebanon County January Resident of the Month.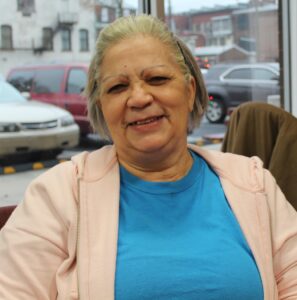 Willow Terrace resident Australia Sanchez has the honor of being the first Community Homes Resident of the Month for 2022.
She has called Willow Terrace home for the last four years. "I am so happy I had the chance to move here. The people are all so nice. The staff is always available if needed," Australia noted, "If I need help with something, someone always steps up to help. You never feel alone in this community."
Timing for the Willow Terrace move was perfect for Australia. A problem family situation in New York led to an invitation from a sister in Lebanon to come to this area. This led to a Community Homes application and an opportunity to move into Willow Terrace. She agreed to take a an available studio apartment "I consider Sue Evans and Cottie McNamara my angels. They were instrumental in making this move happen."
Early life for Australia was not easy. She was the "baby" in a fourteen-person household in the Dominican Republic. All but one of them emigrated to New York in the United States to find a better life.
Her American life, prior to Lebanon, included living in both the New York and Boston areas. A marriage that did not work out still yielded three sons – Henry, now forty-five, Juan Carlo, forty-four and Jorge, forty.
When she was a young mother, friends of the boys referred to Australia endearingly as "Mrs. Kangaroo". Her first name was inspired by married friends of her parents, who named all their children after different countries.
Her working life included sewing, driving a school bus (cut short by a bout with vertigo), and a 15-year period working for Sky Chefs, a culinary supplier of airline food. Australia is particularly good with salads and sandwiches. Interestingly, Jorge is a career Sky Chefs employee. He now lives in San Francisco.
Australia contracted Covid in 2020 and was in a coma for six weeks. "I thank God I survived," she says, "part of my rehab was to re-learn talking, eating, and walking. I did it!"
When asked "What makes you proud'? Australia was quick to respond, "I learned to be a better person since I moved to Willow Terrace. I am more forgiving of people. I am also the proud mother of my three sons, and the rest of my family."