Community Homes of Lebanon County selects Dorothy Davis, Willow Terrace, as the December 2021 Resident of the Month.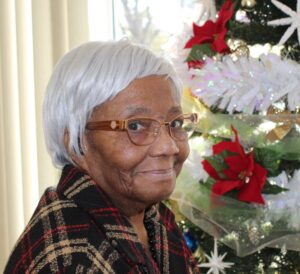 Dorothy was "thrilled" to hear the news when Community Homes selected her as the December Resident of the Month. The choice to turn our spotlight on her was an easy decision.
When you visit with this kind, gentle lady, you quickly learn about her caring spirit. Among other things, Dorothy is an ordained Baptist Minister. She no longer preaches in a church but helps others by ministering them on social media and by telephone.
Her spirit was strengthened through the experience of being diagnosed with cancer in 2006. She was told she had a few months to live. Her strong faith in God pulled her through and she is still active and vibrant. "It ain't over 'til God says it," she says emphatically. Her cancer, she notes, "was a trick of the devil", but she fought it off thanks to her faith.
Life began for Dorothy in Brooklyn, New York, 82 years ago. Brooklynites share a common trait of optimism and independence, and Dorothy is a good role model for this group.
In a world defined by segregation, she experienced the opposite. "I remember my mother worked for Catholic nuns, the Sisters of Charity, in Brooklyn. They made it a point to integrate all races into their educational lives. This is the way I grew up," Dorothy says, "discovering examples of segregation later came as a surprise to me. It did not make sense."
Dorothy's education culminated in a Liberal Arts degree from Houser in New Rochelle, NY in 1974. This led to a career in daycare in Brooklyn for ten years. After this she spent the next several years as a stay-at-home Mom to her five children – Earl, Martha, Timothy, Charles, and William Patrick. Her second of three husbands, Willie Grier, was the father of four of the children.
Dorothy's family includes the five children, plus sixteen grandchildren, twenty-three great grandchildren, and three great-great grandchildren. "I am proud of all of them," she says, "Nothing beats family when it comes to pride!"
Willie was an army military man. He served in an All-Black unit assigned to guard the Tomb of the Unknown Soldier. Dorothy met Willie while she was living with family in Petersburg, Virginia. They married and re-located to NY, where the children grew up.
Dorothy today resides in Willow Terrace in Lebanon. She has been a resident since 2010. When asked how this came about, Dorothy shared a story. She was still living in Brooklyn and returned there after a visit with her daughter, Margaret Ann, in Lebanon. Then one night she was awakened by a voice that said, "You must go to Lebanon!" A woman of faith, Dorothy took to the advice, and it led to her getting an apartment at Willow Terrace.
She enjoys life here. "I love the Community Homes staff, and my Willow Terrace neighbors," Dorothy says," When we are able to get together as a community, I always make my "fresh fruit only" fruit salad. It's in great demand," she adds with a smile.
Dorothy's daughter, Margaret Ann, is also a familiar presence at Willow Terrace. She helps her mother every day, and like her mother, is quick to reach out and help others in the building.
If space were to permit, Dorothy's story would be a longer one. But we will conclude with this observation – Community Homes recognition of the Resident of the Month was created for people like Dorothy Davis. She represents the community spirit of life with her peers as well as anyone. These special people will continue to be recognized.