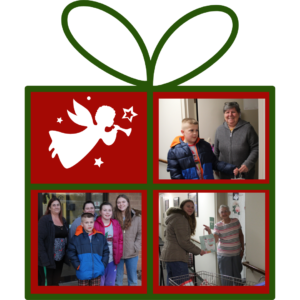 Angels descend upon Tulpehocken Terrace in Myerstown
It is easy to imagine winged creatures or a jolly elf in a red suit when you hear about "angels descending". But a group of descending angels, the Sechman family from Palmyra, took it upon themselves to arrive at Tulpehocken Terrace, a Community Homes senior citizen apartment in Myerstown replete with forty-six gift bags filled with soap, hats, gloves and assorted everyday useful items, one bag for each pf the forty-six residential apartments in the building.
"It was a special surprise for our residents," said Community Homes Site Manager Charlotte McNamara, "the giving spirit of the Sechman family tells us what the Christmas season is truly all about. The smiles on the resident's faces as they opened their doors to discover their surprise gifts was so worth it."
Christine Sechman said the idea of giving back to the community in different ways started more than two years ago. "We were driving and spotted a homeless person. We stopped and bought him a meal. That started the idea of helping people. Each of the children decided on their own charity, and we all support each other. For instance, Connor focuses on the homeless and the Joy Food Pantry. Ayva is involved with the humane society and has a special place in her heart of seniors. This was the motivation for this visit to Tulpehocken Terrace. Next year we hope to do this for two of the Community Homes buildings."
There is no chance the Sechman family will slow down their giving plans anytime soon. They also hope that others will step up and support their efforts. Contact them at Acreationsforcharity@comcast.net.