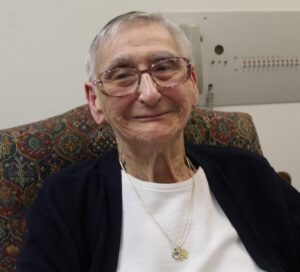 Janice Smith, a 20-year resident of Hill Terrace, has a unique claim to fame. Her mother, Josephine Sullivan, was a long-time resident at Maple Terrace, next door neighbor of Hill Terrace on Maple Street, Lebanon. As a result, Janice became a second-generation resident of Community Homes of Lebanon County.
When Josephine needed help toward the end of her life (she passed at age 98), Janice and her sister Jolynn visited her every day and performed necessary tasks like cleaning and trash removal. Charlotte McNamara, Hill Terrace Site Coordinator, was quick to notice. "Janice was devoted to her mother, and it showed during those days. Josephine had an independent spirit herself, but admitted she needed assistance with everyday living. Janice willingly filled that role." Janice added, "I did what I could. JoLynn did most of the work."
Janice takes pride in her independence, and as a result, does not depend on the "community" of Terrace living, compared to other residents. She does, however, enjoy Bingo with fellow residents every Wednesday.
She still appreciates the comfort and safety of her life at Hill Terrace. "Charlotte and other staff are around if you need help. That is reassuring." she notes.
Janice's fighting spirit was evident right from the start. She weighed just three pounds when she was born at good Samaritan Hospital in Lebanon and fought her way to become a healthy child right out of the gate.
Her education in Lebanon took her through high school graduation with the class of 1957, Lebanon High School.
Her first work experience was at the S.S, Kresge store in Lebanon. "I was just 15 and told them I was 16, so I could get the job. I wanted to work," she remembers, "I was paid 45 cents per hour, and felt independent." She worked at Kresge's until the store closed in 1954.
She speaks fondly of her late husband Edward. They met by chance in 1967 in a laundromat at 10th and Lehman Street in Lebanon. They were married by Justice of the Peace Kathleen Coyle in 1972.
Edward had a long career in the independent moving business, then worked at Bethlehem Steel for the final 12 years of his professional life, He passed away in 2004.
Janice had four children and tragically lost three of them – Brian, Amy Jo, and Jen Lynn. The fourth child, son Edward, and daughter Jen Lynn were "Irish twins" (born less than a year apart). Brian is survived by two boys, Zachary, and Ryan. Janice also has two grandchildren, Justin and MacKenzie.
Janice's sister, JoLynn, is also from Lebanon, JoLynn has two children, Ronnie, and Lori. The two sisters are close and stay in touch.
When Janice was asked "What makes you proud?", her answer was short and simple, "Family!" Straight to the point, as you would expect from this straightforward woman.