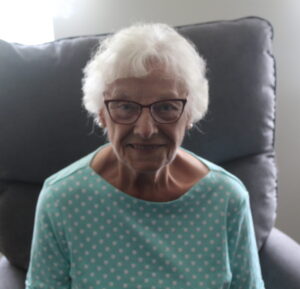 When Irene Peffley, a resident at Tulpehocken Terrace, Myerstown was notified she had been chosen as Resident of the Month for October, her immediate reaction was "October is my month. I can pretend to be a witch with a broom," she said with a laugh.
We chatted with Irene in her spotless one-bedroom apartment on the fourth floor of the building. "I have lived here for the last nine years. It was a great decision to move here from my home. The only regret – I didn't do this sooner," she said.
"I love living here," she continued, "the building is safe, you have to be "buzzed in", and the people here are wonderful. The apartment allows me privacy when I need it, and I can always go downstairs and find someone to talk to when I need to socialize."
"The last couple of years have been difficult for all of us, because of the pandemic. But we are getting through it. The residents supported each other during this difficult time," she noted, "I must single out Trudy, a building resident assistant. She was so helpful to me. I could ask her anything. I do not drive, and she made herself available to take me to doctor appointments and other things."
Irene's last residence was her own home on Canal Street in Lebanon. She lost her husband Sam 30 years ago. They were married at Assumption Blessed Mary church in Lebanon on December 16, 1957.He died at age 58 to melanoma. "Keeping up the house was hard," Irene remembers, "Moving here was the best thing I could have done."
The Peffleys had two children, Troy, and Laurie. The family now includes 5 grandchildren and two great-grandchildren. They all get together for an annual family reunion around the 4th of July each year. She sees Troy and Laurie regularly. "I am so blessed," Irene says.
She is a local Lebanon gal, a Lebanon Catholic School graduate with the class of 1954. After high school she worked for many years at Milsonn Mills in Lebanon, a company that specialized in making men's clothing. "I spent most of my time there working on the cutting floor," she remembers, "we assembled the pieces that were used to make the finished garments."
It was at Milson Mills where she and Sam first met. "God has a way of putting you in the right place at the right time."
Irene, a Lebanon native, comes from a large family. Her parents, Raymond, and Anna Rudegeair had 11 children. (Imagine fighting for time in a home with one bathroom). Raymond worked for many years at Bethlehem Steel. Anna had her hands full raising children,
When asked the question "what makes you proud", Irene was quick to answer, "That I am a mother." She is justifiably proud of the family she herself has raised.