CATE pays a visit to Willow Terrace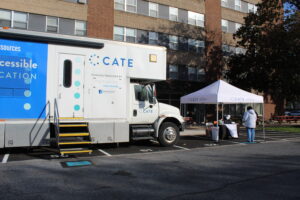 November 3rd was far from a typical day at the 100 Senior apartment building in Lebanon. The community room inside the building served as a polling place for the 2020 election, as it has for many years. And in the parking lot behind the building, CATE was parked. Many more people in the area, all practicing social distancing and following mask protocol.
CATE is a bus, an anacronym for Community-Accessible Testing & Education.
CATE is the result of a unique community partnership between the Pennsylvania Department of Health, the Latino Connection, Highmark Blue Shield and the Independence Blue Cross Foundation.
According to Media.Pa.gov, CATE is equipped to conduct Covid-19 testing  on-site, while also educating the public on how to stay healthy and safe. The tagline is "Sharing knowledge to erase fear."
CATE is managed by the Latino Connection. A spokesperson, who travels daily with CATE said that they have been making stops throughout Pennsylvania since August. At each stop, the team, which includes medical professionals, administers free Codid-19 Testing. "We concentrate on locations that have a high incidence of Covid-19. We normally make the testing available for a three-hour period. The Willow Terrace location is one of seven or eight stops we have made in Lebanon County since we began the program. Locations are chosen based on the area's history of coronavirus cases.
Community Homes of Lebanon County CEO Charlie Rush reported that about 50 People from the community, including many Willow Terrace residents took advantage of the free Covid-19 testing that day.
"The CATE representative reported that the range of people tested on a given day was from 15 to a high of 105 (in Reading).
Fifty local residents was an above average number," Rush observed.
Community Homes of Lebanon County has been serving the county's senior and ambulatory disabled population for over 50 years.