Our 2020 Annual Shareholders Meeting
The continuing need to provide quality affordable housing for Lebanon County's seniors, people with ambulatory disabilities, and families in need is the driving force behind the mission of Community Homes.
The organization meets annually with its shareholders. This was the first time the meeting was structured as a "hybrid" meeting. Some were there in person, socially distanced with masks. Others were in attendance via Zoom. Led by CEO Charlie Rush and Board Chair Glenn Wenger, the shareholders were briefed, via two video presentations entitled The Community Homes Experience and Celebrating the Trail of Impact. View the videos here.
The presentation highlighted the recent opening of the "Proof of Concept" Duplex at 731 Maple Street, Lebanon, which is now home to individuals with ambulatory disabilities. 'Proof of Concept" refers to the idea that the Design/Build team sought to determine which design elements were transferrable to future developments meeting the needs of other age groups and household demographics; e.g. larger dwelling units for families having more than two persons, or a development having a community center and play spaces for children.
Plans for a 23-unit development on Canal Street, slated for a phase one opening in 2022 were also reviewed.
"The need to provide additional housing for the population that needs our help is motivating us to keep growing," Glenn Wenger noted, "I am very proud of our team, led by Charlie and his staff, the Board, and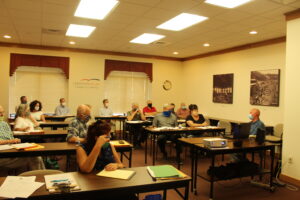 our community shareholders. We are all determined to succeed."
Funding will also be needed to make the plans happen. "Fundraising will be an element. A Capital Campaign will be organized by Board Member Jason Trout. We have the support of our Lebanon County Commissioners. The Federal Home Loan Bank will be involved. And other grants are being researched."
"We have to raise $250,000 in the next year for phase one of the Canal Street project. We are off to a good start. A good example of community support is from the parishioners of Calvary Church in Lebanon, led by Pastor, and Community Homes Board member Thom Keller," Wenger continues, "I was so impressed by the enthusiastic turnout at our open house at the "proof of concept" duplex that it showed me that there are many people who support our mission."
"Support was also evident at our Ribbon-Cutting event at the Maple Street Duplex. It was attended by representatives of Senator Toomey's office, the State House, the County Commissioners, the City of Lebanon, and Northern Lebanon Township, as well as the team who were directly involved in the project," Charlie Rush adds, "It's all about local people helping local people, a trait that is consistent with the heart of our Lebanon County citizens."