Community Homes selects Jack Steele as May Resident of the Month.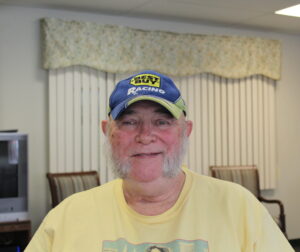 Our May Community Homes Resident of the Month is Jack Steele. He and his wife Charlotte have happily lived at Maple Terrace for the past four years. They share their comfortable one-bedroom apartment with their little dog Penelope, a Jack Russel/Poodle mix. She is 14 years old.
They moved to Lebanon, Pa after many years living in Binghamton, NY. "At first we loved our home in Binghamton. The neighbors were all friendly and cared about each other. But over the years, the neighborhood went downhill, and it reached a point where we felt we had to move for our own safety. We have Pennsylvania roots, so it made sense to make the decision to move here. We love this area."
In retrospect, the Steeles were fortunate when they decided to complete an application for a Community Homes apartment. Despite a very long waiting list, they were offered their Maple Street apartment in a relatively short amount of time. "Very lucky timing," Jack observed.
"We like our place; it is very well kept, and the staff is very nice, and a caring group of people."
Jack, now 72, was raised with three brothers, Ronald, Gerald, and Powell, Jr. and a sister, Gwendolyn, in Oil City, Pennsylvania. Their parents were Powell and Virginia Steele.
Jack graduated from Chenango Forks High School, near Binghamton, and worked in the area for many years. He had a "patient transport" responsibility at the Wilson Memorial Hospital in nearby Johnson City, NY, when a physician recognized Jack's potential to increase his responsibilities. After two years, he was promoted to "therapy aide." Jack's handyman talents propelled him to a 27-year career as a general maintenance employee, with a variety of responsibilities from repairing air conditioning units to stethoscopes.
After Jack's retirement from the hospital, his love of animals landed him a security job at the Broome County Dog Shelter in the Binghamton area. "I remember the shelter had a good reputation as a safe, clean housing environment with medical care for adoptable dogs and puppies, it was a nice place to work," Jack says.
The Steeles met when they both worked at the Willow Point Nursing Home in Vestal, NY. "Charlotte had a wonderful quality about her. She cared about others and went out of her way to be nice to people. That won me over," Jack says.
When asked about hobbies and interests, he talked about his love of harmonicas. He is a self-taught harmonicist and boasts of a collection of over 100 unique harmonicas.
Charlotte is a creative quilter. It may take years to complete a quilt, but she enjoys spending the time, knowing that the finished quilts will be treasured by friends and family. She has been known to occasionally sell her quilts as well.
The Steeles are very proud of their two sons. Sean, age 50, works in Ithaca, NY. He loves to fish and loves music. He has friends in the music industry including Engelbart Humperdinck.
Jeremy, 46, is a commercial artist and belongs to the Screen Actors Guild. He has done artwork for the Pittsburgh Steelers and several political organizations.
What makes you proud, Jack was asked. "My Irish heritage. My great parents. And I feel good when I have a chance to help other people." It is easy to see why Jack and Charlotte are so well matched.