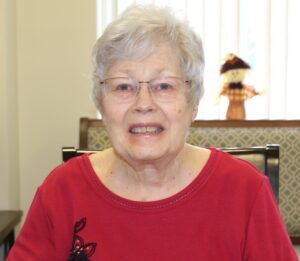 Community Homes Selects Pat Kofler, Maple Terrace, as the November Resident of the Month.
Lifetime Lebanon resident Pat Kofler must like living on Maple Street. She has lived, at various times in her life, on Maple Street at three different addresses, plus nearby on Hill Street. So, it is not shocking that a little less than two years ago she moved into Maple Terrace. Her address is 725 (you guessed it) Maple Street. "Best decision I ever made," Pat observes, "Living in a community of peers beats the loneliness of living alone. I am happy here."
A widow since 2019, when her husband Donald passed away, they had been married since 1959, shortly after high school graduation. The loss of her husband. motivated the move to Maple Terrace. "I needed to be around other people," she said.
Pat's life has been simple and fulfilling. Like any lifelong resident, she navigated her way through the Lebanon school system, culminating in graduation from Lebanon High School in 1959. Pat loved cheerleading and cosmetology.
Along the way she attended Stevens and Harding schools. I was during her Junior High School she discovered her love of cheerleading. She was the captain of the Harding cheerleaders, and this passion continued through high school, when she became Captain of the Lebanon High School cheerleaders.
It did not take Pat long to find a career path. She followed a strong interest in cosmetology and pursued this calling as her life's work. Hairdressing was her professional life for 59 years. It started when she attended the Empire Beauty School in Lebanon. At one point she had her own shop on Hill Street. And she also devoted time to teaching cosmetology.
Professional Recognition
Pat was once recognized by an Association of Cosmetologists as the Cosmetologist of the Year. "It was a great honor," she recalls. During that time of her life, she remembers attending a convention and meeting Bob Hope in an elevator. "He was genuinely nice. He joked around, even with an audience of one," she recalls with a smile. Pat retired in 2019 to take care of Donald, who was in failing health. Donald's early career included working at Bethlehem Steel. He loved golf, and later found a job he enjoyed as a groundskeeper at Fairview Golf Course in Lebanon. "He enjoyed that job" Pat said.
Life lessons
Pat and her brother and sister learned self-sufficiency early, as her parents divorced when they were all young. But that did not deter them from finding success as adults in life.
She is enormously proud of her children, a son, Gary, has a successful career in Georgia and here in Lebanon. Daughter Karen is a Lebanon School teacher. "They were both good at match. They goth that from their engineer father. I was not good at math, Pat admits.
Lifelong friends are also precious to her. "For example, several of us started a monthly card club in 1959, right after high school", she says with pride," Some of the players changed over the years, but we still meet to this day".
Yes, life is good for Pat Kofler, our Community Homes November Resident of the Month!