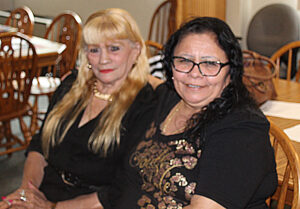 Angela Santiago of Poplar Terrace selected as July Community Homes Resident of the Month.
The life framework of Angela Santiago is built around the keyword of FAMILY.
Born into a large family in her native Puerto Rico, Angela's early life centered on helping on the family's two-acre farm, and assuming responsibility for growing and harvesting coffee beans and bananas.
She met her husband, Esteban Santiago in Puerto Rico at age 15, in 1958, and married and moved to Florida with him to start their own large family. He worked in landscaping and trucking, "He was the boss", she says.
Angela had 7 children, keeping busy enough to be a stay-at-home Mom for her adult life.  Esteban passed away in 2011.  Angela has managed to stay close to her family ever since.
The interview took place at Poplar Terrace. Angela speaks broken English, and the conversation was conducted with the help of her daughter, Isabel. Angela loves her life at Poplar Terrace and is very sociable with the Community Homes staff and resident population, despite the obvious language limitations.
This is actually Angela's second time as a Poplar Terrace resident. She came to Lebanon originally to move into her son Emilio's house in 2018. Circumstances changed and an opportunity presented itself to move into her own place at Poplar Terrace in 2019.  She was pleased to make the move.
In 2021 while on a family visit to Puerto Rico, Angela suffered health problems that prevented her from traveling, so she gave up her Poplar Terrace apartment and remained in Puerto Rico for two years with family.
Circumstances arose that allowed her to return to Poplar Terrace in 2023, this time in a two-bedroom apartment with her son, Emilio, as her caregiver. "I am so grateful it worked out this way", says Angela, "This is a perfect place for me to live. The people, the place, and the residents and staff are all wonderful. I am very happy here".
The most dramatic part of Angela's story is the size of her family, which retains a loving connection to this day.
She has 7 children. 32 grandchildren, and 25 great-grandchildren. They manage at least one big family reunion each year.
Angela loves to cook and to clean and is an active leader of her family!
Photo – Angela and Isabel