Distinguished gentleman named Community Homes Resident of the Month for June.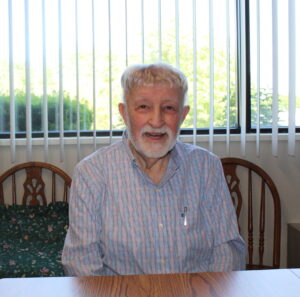 He is an ordained minister.
He speaks seven languages.
He has been a college professor.
He plays 12 instruments and has been a choir director.
He has lived and worked within the United States and throughout the world
He has a PHD in Divinity and Theology.
He is a Chile native, and became a US Citizen in 1974.
He likes living at Poplar Terrace so much, he has lived there TWICE.
Meet the Community Homes Resident of the Month for June, Steve Ayling.
"My wife Ana and I moved into Poplar Terrace in 2008. We enjoyed our life at Poplar Terrace. We had a nice second-floor apartment. We were very comfortable being around the staff and our fellow residents. It was a good life."
In 2011, career ministerial responsibilities led Steve and Ana to Indianapolis, Indiana. They returned to Lebanon in 2016. "We had hoped to move back to Poplar Terrace, and luckily it worked out for us. We are now living comfortably in our two-bedroom apartment on the fourth floor. God is good," Steve says.
Steve and Ana like the convenience of Poplar Terrace living. "Ana loves to walk to the nearby Weis Market to shop," Steve also enjoys volunteering to help others. "Community Homes' Site Administrator Cottie McNamara at Willow Terrace, asks Steve to translate English to Spanish for letters, documents, and announcements. "Cottie sometimes needs a Spanish to English translator for letters and documents. "I am happy to be of service," notes Steve. "The more chances I get to help people, the better."
Steve and Ana have been married for 17 years. He has had the misfortune of experiencing the loss of two spouses.  His first wife. Ruth spent many years with Steve doing Missionary work in Australia. Ruth lost her life in an auto accident in 1987. They had been married for 21 years. His second wife, Brenda, lost her life to a brain tumor. They were married for 12 years. "My Faith in God has held me together," Steve says.
Life before Poplar Terrace.
Steve was born and raised in Chile. He started working as a field hand at age 9. As a young man he spent one year serving in the Chilean army. "When they explained that I had a choice of serving one year in the army or five years in jail. It was an easy decision," he recalls with a smile.
He spent almost 20 years counseling and helping rehabilitate those struggling with addiction through the Teen Challenge organization, based in Columbus, Georgia.
Steve worked in Latin America, Europe, Asia. Australia, and the USA planting churches. "We look for locations where there are groups who need evangelizing.  We establish a location for the church, then go door to door to recruit parishioners. It was a lot of work, but it was worth it," he says.
Family background.
His parents, Arthur, and Rebecca Ayling, met in Chile, after emigrating from Scotland, England, and France. Steve has two brothers – John, who lives in Allentown, Pa., and Arthur, who is a retired minister in Australia. His older sister, Dorcas, has been involved with a Bible College in the jungles of Peru. Steve is a father to two married daughters as well."
What makes Steve Ayling proud?
"I am proud to be an ambassador for Jesus Christ before anything else. I try to be a good example to others and am friendly to others as well."
Steve and Ana are enjoying retirement at Poplar Terrace and are involved with the Christian Family Fellowship Church in Lebanon. Even though he has blessed many throughout his life, he continues to have a servant's heart to do justice, to love kindness and walk humbly with God.