Resident of the Month Series
We are pleased to introduce Harold Trostle, age 95, resident of Oak Terrace in Lebanon, and a WWII US Navy veteran. He and his beloved wife, Nancy, have lived in their own comfortable one-bedroom apartment for the past seven years.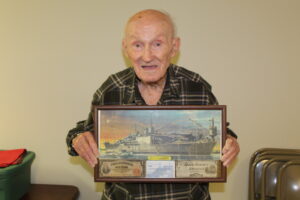 After 71 years of marriage, Nancy recently passed away. The Trostles had two children, Donnie, a retired Lebanon High teacher, and Jill, who resides in Jersey Shore, Pa.
Harold enjoys being around his fellow residents (pre-pandemic of course) because "we all get along and there are no arguments." Until recently, Harold enjoyed weekly travel on the Lebanon Transit bus to a local McDonald's, where he "hung out" with a group of regular friends.
Harold still has vivid pride-filled memories of his life from 1942 to 1945, when he served his country with the US Navy. He served aboard the U.S.S. Currrituck, which distinguished itself, according to an "unofficial history"  as one of the "combatant ships of our Navy that played a vital role in sweeping the Japanese Navy and Japanese shipping from the seas." He earned ribbons for Pacific Asiatic service; Philippine Liberation; and Good Conduct. When asked about his role in relation to the medals, Harold said, modestly, "they were all too big for me."
He finished high school after WWII. His career path included working at RCA in Lancaster. He worked his way up the ladder to become Foreman of the Plating Department, before retiring after 32 years of service with RCA.
In his youth, Harold distinguished himself as an athlete, winning a Cross Country championship in 1940. He was also an avid and competitive tennis player for many years.
"I am happy to be a Community Homes resident," Harold concludes, "My son Donnie helped me find this place seven years ago. It was a wonderful day."