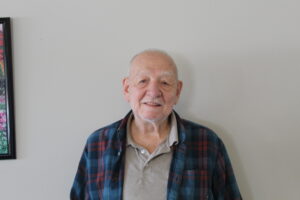 Robert Wilson Fidler has happily called Community Homes-owned Tulpehocken Terrace, Myerstown, his home since 2011. His comfortable and safe one-bedroom accommodation is one of 46 apartments in the building.
Prior to moving to Myerstown, Robert lived in a comfortable apartment in Pennsburg, PA. What was the reason for the move? "I had some medical issues at the time," he said, "the rest of my family lives in this area. They persuaded me to move to Myerstown, so we could all be closer. It has worked out very well. I am very happy here."
His younger brother Dennis, three nephews, and a niece all live in the area, where they find time for occasional family gatherings. "Dennis helps with grocery shopping. He is a big help."
Robert, who will celebrate his 80th birthday in May, enjoys his retirement life here. He enjoys reading mystery and crime stories ("It's fun figuring out the plots") and watching crime programs and sports on TV. He is "all in" as a fan of the Philadelphia teams – the Phillies, Eagles, Flyers, and the 76ers. He also loves Villanova basketball.
Robert also enjoys helping take care of the plant life on the building property. He takes responsibility for two of the six planting areas. "It's enjoyable getting my hands dirty. I tried rose bushes one year, but the beetles killed the roses. We keep trying different things."
In his pre-retirement life, Bob was a 19-handicap golfer, and an exceptional bowler, with an average well over 200. He proudly wears a "299" ring. A missed 7-pin deprived him of the elusive perfect game. "I asked the owner of the bowling alley if I could keep the 7-pin. He said no. I'm still unhappy about that," Robert said with a smile.
Fidler has spent his entire life in Pennsylvania, except for a three-year stint in the US Army. He was stationed in Maryland and worked as a radar operator "I really enjoyed that. I offered to stay in the service if the army would promise not to send me to Greenland. They would not make that commitment, so I completed my three-year service obligation and returned to civilian life."
Robert, a 1959 graduate from Perry High School in Shoemakersville, Pa, worked in manufacturing plants throughout his career. This included some time at Neapco Components in Pottstown, Pa, which manufactured parts for John Deere.
When asked about any differences in his lifestyle today at Tulpehocken Terrace, he said, "It is a nice to be part of a community here, and the staff and maintenance people are all nice. Charlotte, Jane, Cindy, and Trudy have been particularly helpful to me. It is also a quiet area, with outdoor benches. I like that."
Robert was also asked, "What makes you proud?" Here is his response – "Doing things right and proper. And helping people when I can."
Spoken like a true Resident of the Month!