Bob Scaramuzzino is February's Resident of the Month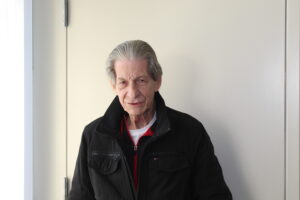 How many people do you know who claim to be living their retirement years in the same spot where they used to work, some 40 years ago? This is part of Bob Scaramuzzino's story.
Bob's grandparents immigrated from Italy. His dad, Frank, was an electrician and his mom, Marion, was a housewife. Bob was born and raised in Lebanon, PA. He attended Lebanon Catholic High School and in 1964, was drafted into the Army for two years. He was stationed in Fairbanks, Alaska and remembers "I was greeted by minus 50-degree weather when I got off the plane. It was still better than being shipped to Vietnam." He enjoyed working in transportation where "I unloaded Army supplies; I was a good forklift operator."
Prior to being drafted, he worked for his uncle's business, JoJo's Sandwich Shop in Lebanon. Bob was an apprentice, learning the restaurant business and making a popular hamboat sandwich which customers often ordered.
After Bob returned from his service in the Army, he started working for his dad, Frank, who had established his own business, Frank's Lunch Stand on 5th & Lehman Street, Lebanon. Frank and Bob worked side by side for almost 7 years. In 1974, Frank died, and Bob took ownership of the family business making sandwiches and meals for his faithful customers. Bob decided to branch out and began making pizza, (after all, he is Italian), and changed the restaurant name to Zino's Pizza.  Bob sold Zino's Pizza in 1999 after working 33 years in the restaurant business.
When asked if he missed the business, Bob said, "Yes, sometimes. I met a lot of great people over the years; I miss seeing them."
Bob mentioned that one of the best options of living at Willow Terrace is that "my apartment is economical; my rent is based on my income and I know I will always be able to afford the minimal rent increases. Most of my utilities are included in my rent and Willow Terrace is a clean and safe place to live."
Bob said he enjoys watching movies, primarily Army, Westerns, and Thrillers. "I like to cook for my girlfriend, who also lives at Willow Terrace; we were friends for many years prior to me moving to Community Homes."
Bob is most proud of his two sons, Robert Jr, and Chris. They both work for T-Mobile, one in Lebanon, and one in Lancaster. Bob does receive some perks in having two great connections for his cell and cable provider. Bob also has one granddaughter, who lives in Oregon and has not seen her as much as he would like to.
Ironically, when Bob worked for his uncle at JoJo's Sandwich Shop, it was located at 8th & Willow Street, Lebanon, which is now where he has been happily living for the past five years, at Community Homes, Willow Terrace.
"Willow Terrace was built in 1972," Bob explains," In 1970, Jo Jo's Sandwich Shop was right here at 8th and Willow Streets and that is where I once worked. So, it is true; I now live where I worked."