Irene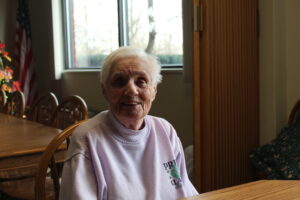 Wike gets around just fine, thank you. No walker. No cane. Just foot power. Pretty amazing for someone 99 years old!
Life began for Irene on April 7, 1921. She was one of six children. Two died very young and now, she has survived all her siblings. She was born in Avon, PA. Her parents were Edna and John Peiffer.  
Irene is counting the days until April 7, 2021, when she celebrates her 100th birthday. Fingers crossed (a pandemic precaution), she is hoping to surround herself with friends and family. "A 100th birthday is a good reason for a party," she says, "I would rather not celebrate alone."
She has called Poplar Terrace, Lebanon home for the last 22 years. She is a widow. Her late husband, James, and she were married for 30 years, from 1940 to 1970, at the time of his death.
James served in WWII in France. He was in the Army and attained the rank of Private First Class.
Irene also had a brother, Ernest Peiffer, who served in the Airforce during WWII. His plane went down over Germany and was a prisoner there until the American's freed him.
After WWII, James worked at Quaker Alloy.
Irene worked at least 30 years, combined, at two different Lebanon shirt factories, Weiss and Denford, in Lebanon. She worked in the finishing department in both places. She did not want to sew and was able to choose which department she preferred to work.
She has many fond travel memories during her married years. She and James spent time visiting numerous places throughout the USA.  One of the places she was able to check off her 'bucket list was Hawaii. They spent two weeks traveling across four different islands. "You should have seen James taking hula lessons. So much fun!"
Irene has been living on her own since 1970, but that has not stopped her from fully enjoying her life. When asked about her best memories, Irene commented on her love of travel. "I still remember a trip to New York with my niece, Ruth Stalnecker. We went to the big Radio City Music Hall and saw the Rockettes perform on stage. That was so much fun." She also had season passes to Hershey Park, frequently went on bus trips, and attended dinner theaters.
Today, she keeps in close contact with her daughter Karen Meiner, a retired nurse who lives in New York and calls her every day to check in with her.
Life at Poplar Terrace.
Irene loves her independence at Poplar Terrace.
As an early riser, she must first have her coffee, then her #1 breakfast – cereal and fruit. She cooks her main meal at lunch time and then eats a lighter meal for supper. She is not fussy. "I will eat anything that doesn't eat me first," she says with a laugh.  She also cleans her apartment without any assistance.
The pandemic has affected the social life that has been a hallmark of Community Homes. During her downtime, she likes to play games on her Kindle tablet. She also has a cat, which runs on a battery but feels like she has her own furry friends.
Looking ahead to April 7th, she did mention her 90th birthday party, when she had a friend play two of her favorite songs, New York New York and Gypsy Rose, on the piano at  Heisey's Diner in Lebanon. Maybe that is a hint where she would like to celebrate her 100th birthday.
We are rooting for Irene. She deserves to have her 100th birthday wishes come true!